Quality Run In Sheds, Run-In Combos
Whether you're looking for an economical, always-available shelter for your horses or livestock or wish to combine the protective features of a run in shed with the added storage capabilities of our shed row barns, Sunset Barns has you covered!
Run In Sheds
Ideal for pastured horses, llamas, alpacas, goats and cows. Our run in sheds provide on-demand protection from wind and inclement weather, while allowing your animals the freedom to roam. Built from high-quality rough-oak framing using post & beam construction, our run in sheds are built to stand the test of time!
Looking for extra storage space? Our run-in sheds are also perfect for storing firewood, tractors or other equipment or supplies, providing shelter and quick access.
Standard Features:
High-quality rough-cut oak framing
Available with attractive board & batten siding (or upgrade to metal siding)
Choose from 30 year architectural shingled roof (or upgrade to metal roofing)
4' oak kick board all the way around for maximum kick protection
Our run in sheds can also be partitioned for use with animals in different pastures. Add a tack room or stalls for added storage or convenience!
Run In / Shed Row Combos
Combine our standard run in shed with a shed row barn for maximum storage and convenience! Our run in shed - shed row combinations combine the shelter of a run in shed with the storage capacity of a shed and the space of a row barn! Add stalls, tack room or extra partitions.
Want to know more about our run in shed combos? Contact us for details and pricing!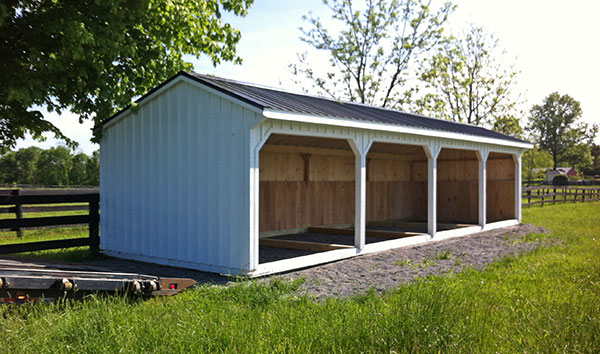 Our run in sheds are available in a variety of sizes to suit your needs. Need to customize your run in shed? No problem! We offer a variety of optional features to customize your run-shed for your needs! Just contact us for details!
---
Lean-To Option
Adding a lean-to to your run in shed or run-in combo is a great way to provide shade and extra comfort for your horses! Our lean-to also offers great coverage for feeding, tack or equipment storage!
Lean-To Features:
All wood construction
Standard shingle roof
Optional metal roofing available
Natural, painted or stained finish
Delivery:
Our run in sheds and run in combos will be delivered fully assembled and ready to use the same day! We utilize our own experienced delivery crews to ensure your complete satisfaction!
---
Run In Shed Pricing
8' Wide
Price
10' Wide
Price
12' Wide
Price
8x8
$1,670
~
~
~
~
8x10
$1,880
10x10
$2,215
~
~
8x12
$2,155
10x12
$2,545
12x12
$2,635
8x14
$2x350
10x14
$2,740
12x14
$2,855
8x16
$2,645
10x16
$2,905
12x16
$3,055
8x20
$3,130
10x18
$3,115
12x18
$3,390
8x22
$3,285
10x20
$3,330
12x20
$3,740
8x24
$3,655
10x22
$3,540
12x22
$4,055
~
~
10x24
$3,845
12x24
$4,375
~
~
10x26
$3,975
12x26
$4,705
~
~
10x28
$4,295
12x28
$5,005
~
~
10x30
$4,620
12x30
$5375
~
~
10x32
$4,845
12x32
$5,740
~
~
10x34
$5,180
12x34
$6,020
~
~
10x36
$5,485
12x36
$6,440
~
~
10x38
$6,080
12x38
$6,750
~
~
10x40
$6,500
12x40
$7,050
~
~
Tack Room
$800
Tack Room
$900
~
~
Stall
$800
Stall
$900
Run in Shed/ Storage Combination = Add the price of the storage room, to the price for the total size building you would like. Ie; 12x24 run in shed ($4,375) plus the 12' wide storage room price ($900) equaling $5,275. Add a lean to onto your run in - call for your custom quote.

Tack Room - Includes 1 partition wall, service door, window & floor.

Stall - Includes 1 partition wall, dutch door & window with grill
*Barn deposits are non-refundable.
We're proud to offer service within a 600-mile radius of the following locations—
Limestone, TN; Cross Hill, SC; and Christina, PA.
Unfortunately, the cost of delivery outside of these areas is prohibitively high.
Inquiries about exceptions will be considered on a case-by-case basis.